Date and Time
August 26 (Sun.), 2012 9:00 a.m. start
Host Organizations
Organizing Committee for the 2012 Hokkaido Marathon
Hokkaido Amateur Athletic Association, The Hokkaido Shimbun Press, Hokkaido Cultural Broadcasting Co. Ltd. (UHB TV), FM Hokkaido Broadcasting Co., Ltd. (AIR-G'), Doshin Sports Press, Hokkaido Government, Sapporo City, Hokkaido Amateur Sports Association,
Hokkaido Association of City Mayors, Hokkaido Association of Towns and Villages, Federation of Hokkaido Chamber of Commerce and Industry,
Sapporo Chamber of Commerce and Industry, Hokkaido Tourism Organization, Sapporo Tourist Association, Hokkaido Medical Association,
Hokkaido Nursing Association, Hokkaido Physical Therapy Association, Sapporo Health Sports Foundation,
NPO Runners Support Hokkaido
Superintendent
Sapporo Amateur Athletic Association
Supporting Organizations
Japan Tourism Agency, Japan Association of Athletics Federations
Course
Odori Park (Nishi 4-chome) – Susukino – Nakajima Park – Sosei Tunnel – Shinkawa-dori (halfway point) – Hokkaido University – Former Hokkaido Government Office Building (Akarenga) – Odori Park (Nishi 8-chome)
[*The course in detail]
| | | |
| --- | --- | --- |
| Water stations | 18 points | 5 km, 7.5 km, 10 km, 12.5 km, 15 km, 17.5 km, 20 km, 22.5 km, 25 km, 27.5 km, 28.2 km, 30 km, 32.5 km, 34.1 km, 35 km, 35.9 km, 37.5 km, 40 km |
| Medical aid stations | 5 points | 20 km, 25 km, 30 km, 35 km, 40 km |
| Toilets | 9 points | 7.5 km, 14.0 km, 17.1 km, 18.8 km, 20 km, 25 km, 30 km, 33 km, 40 km |
Maximum number of entrants
11,000 (accepted in the order of entries received)
Entry Fee
10,000 yen
* The fee includes tax, accident insurance and charitable donations to children who have been orphaned as a result of traffic accidents, and victims of the Great East Japan Earthquake.
* Entrants are responsible for covering any handling charges related to payment methods.
* Free for escort runners for those with visual disabilities (up to four per runner)
Eligibility
Runners, both men and women, must be at least 19 years of age on the race day and have records indicating completion of a full marathon within 5 hours.
Regulations
In accordance with the 2012 Regulations of the Japan Association of Athletics Federations and the Hokkaido Marathon
Starting line-up
The invited runners will line up at the front and the remaining entrants will line up in order based on the submitted personal record times, irrespective of gender.
* Those who enter as athletics federation registrants are required to apply via the federations to which they belong.
Checkpoint
| | | |
| --- | --- | --- |
| Checkpoint | Closing time after start | Closing time |
| 1.2km | 25 min. | 9:25 |
| 5km | 45 min. | 9:45 |
| 10km | 1 hr. 20 min. | 10:20 |
| 14km | 1 hr. 48 min. | 10:48 |
| 15km | 1 hr. 55 min. | 10:55 |
| 20km | 2 hr. 30 min. | 11:30 |
| 25km | 3 hr. 05 min. | 12:05 |
| 28.2km | 3 hr. 26 min. | 12:26 |
| 30km | 3 hr. 40 min. | 12:40 |
| 35km | 4 hr. 15 min. | 13:15 |
| 40km | 4 hr. 50 min. | 13:50 |
| 41.6km | 5 hr. 05 min. | 14:05 |
Application Period
4From April 9 (Mon.), 9:00 a.m.
* Entries are accepted on a first come basis until the maximum number of entrants is reached. Applications must be postmarked by April 27 (Fri.).
Entries can be submitted via the following website as of 9:00 a.m. on April 9.
http://www.knt.co.jp/ec/2012/hokkaidomarathon/
Registration
Sapporo Grand Hotel (address: Kita 1-jo Nishi 4-chome, Chuo-ku, Sapporo, Hokkaido)
August 24 (Fri.) 13:00 to 20:00
August 25 (Sat.) 10:00 to 20:00
Please note that registration is not possible on the day of the race.
Participation Prizes
An event T-shirt will be presented to all runners (prizes are subject to change).
Completion Prizes
All finishers will receive a medal produced by Kan Yasuda, an internationally renowned sculptor from Hokkaido, as well as medal stand that includes their name and finishing time.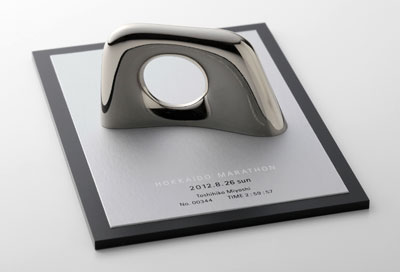 Awards
General awards: the first- to eighth-placed runners in both the men's and women's races
Age-group awards (5-year age grouping): the first- to third-placed runners in the respective age groups of both the men's and women's races
Rookie awards: One runner from each of the men's and women's races (to be invited to the Seoul International Marathon)
The Hokkaido Shimbun newspaper issued on the day after the race will publish the times of the top runners in both the men's and women's races.
All finishers will subsequently receive a collection of official records listing the finishing times of all the runners.
Entry Guidelines
* All applicants are requested to observe the terms and conditions of the Entry Guidelines specified below.
The organizers shall have no liability whatsoever for sickness, loss or other accidents, aside from providing emergency measures.
Cancellation for personal reasons shall not be accepted after the application has been submitted. Once entry fees have been paid, they cannot be refunded for any reason (e.g., cancellation of the event or reduction in size due to natural disaster, accidents and so forth).
Applicants are requested to obtain approval of their participation in this marathon from a guardian (in case of applications by minors) or participating team members (in case of applications made by representatives). False declaration of records, such as age and gender, or entry by a person other than the applicant (substitute running) will not be tolerated. If such a case is detected, entry will be cancelled.
Applicants shall agree that personal information, such as their name, age, gender, address (names of countries, prefectures and other administrative entities; and names of cities, towns and villages), past records and portraits may be used in the marathon's promotional materials such as videos, photographs, articles and records published via such media as newspapers, TV programs (including commercials), magazines, the Internet and pamphlets. The publishing and portrait rights to such information belong to the organizers.
* In addition to the Entry Guidelines, applicants are requested to observe the Regulations of the Hokkaido Marathon set forth by the organizers, and submit written consent.
Inquiries
Overseas entrants (except those from Seoul and Hong Kong)

Kinki Nippon Tourist Hokkaido Co., Ltd.

Sapporo Corporate Travel Branch

Sapporo Panasonic Bldg., 4F, Kita 3-jo Nishi 1-chome, Chuo-ku, Sapporo

TEL: +81-11-251-0011 FAX: +81-11-251-3630

E-mail: yugo902375@knt-h.co.jp

Entrants from Seoul

KNT Korea, Inc.

DooBee Bldg. 4F, 11-3, Jeong-dong, Jung-gu, Seoul

TEL: 02-1544-0204 FAX: 02-757-5175

E-mail: mshong@kntkorea.co.kr

Business hours: Weekdays 9:00 a.m. – 6:00 p.m.

Closed on Saturdays, Sundays and national holidays

Entrants from Hong Kong

KNT (HK) Limited

Room1003 Kowloon Centre, 29-33 Ashley Road, Tsim Sha Tsui, Kowloon, Hong Kong

TEL: 2735-1166 FAX: 2735-1110

E-mail: info@knt-hk.com

Business hours: Weekdays 9:00 a.m. – 6:00 p.m.

Saturdays: 9:00 a.m. – 1:00 p.m.

Closed on Sundays and public holidays